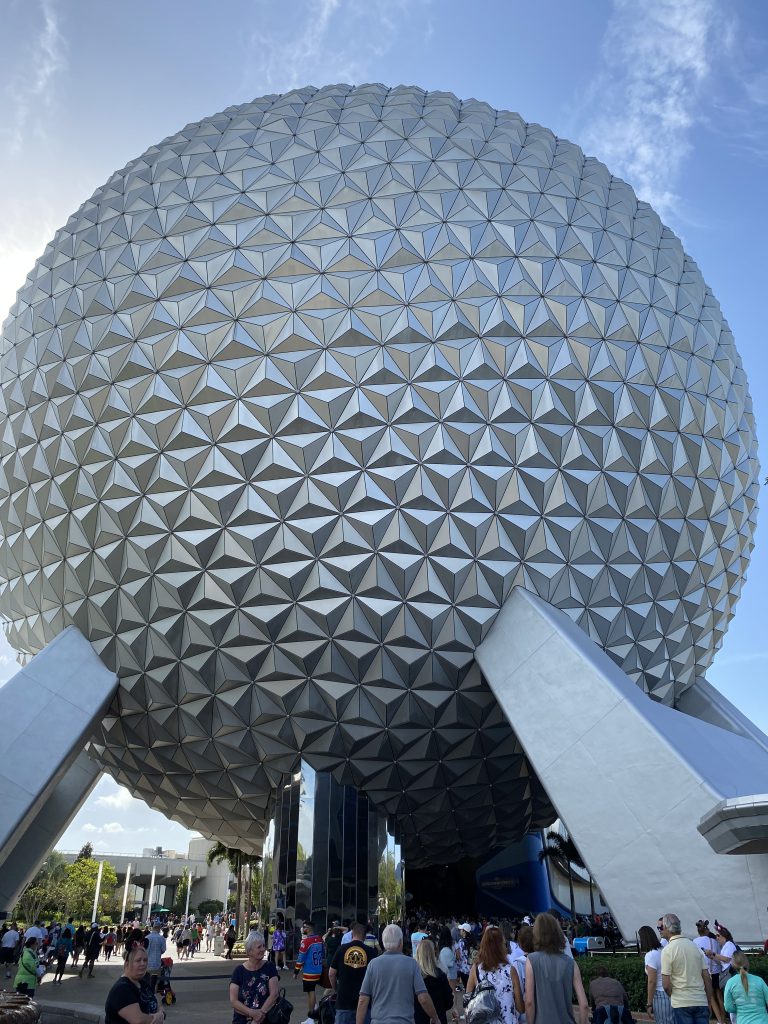 Central Florida couldn't decide if it wanted to be hot or chilly, sunny or rainy, on the Friday we visited EPCOT for their annual food & wine festival. Luckily for us, the brief rain happened while we were in a very long line indoors.
This year, many of the booths boasted some new offerings, which was nice. But, we can usually only fit in ten to thirteen items before we stagger to the car (from too much food, not wine or beer) and head home, so we couldn't taste them all. We only go for things that sound like we might actually enjoy them. It's not cheap, after all.
So, what did we eat? Was it any good? Let's dig in.
First stop: Mexico!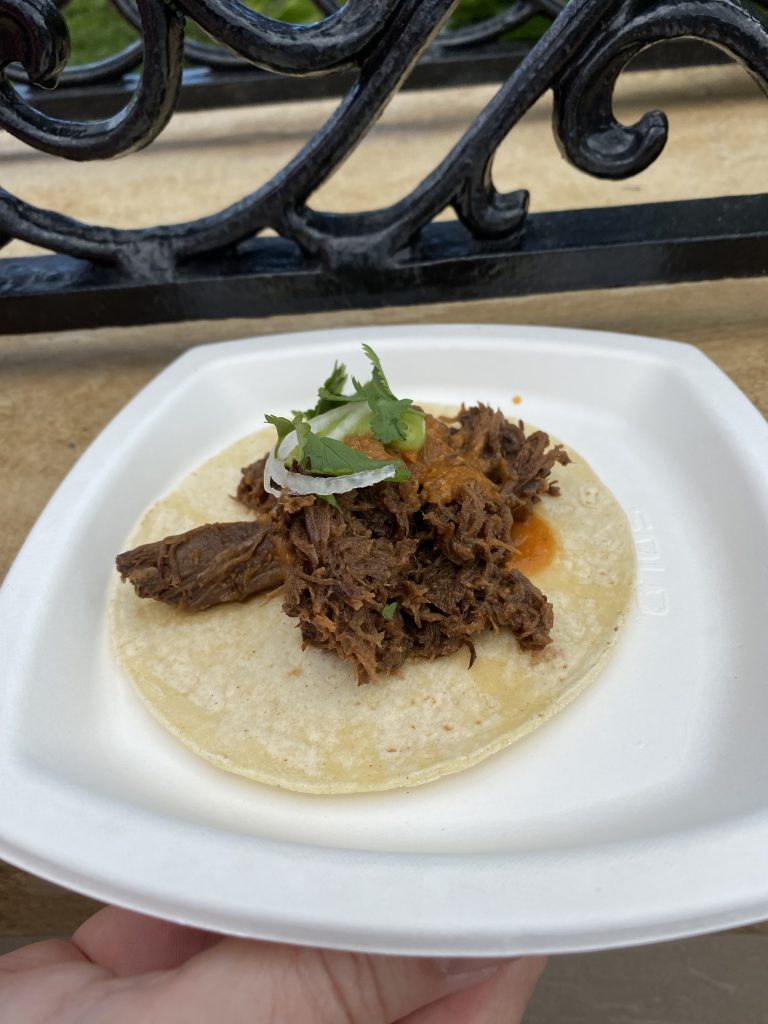 All three of Mexico's offerings were new this year. We tried the Taco de Costilla: slow braised beef short rib on a corn tortilla with salsa de chile Morita, avocado mousse, and spring onions. I was really looking forward to the avocado mousse. Unfortunately, there was very little of it. But what I could find was lovely. The entire dish was tasty, if a bit on the salty side.
Stop number two: China!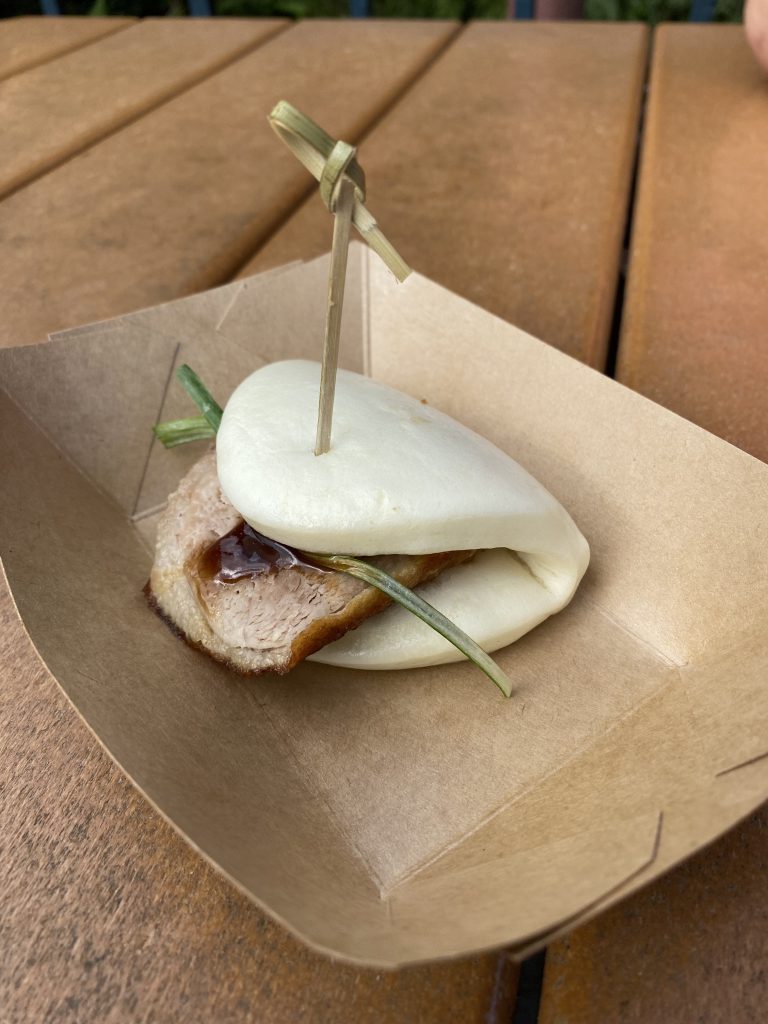 New at China this year was the crispy duck bao bun with hoisin sauce. It looks like a mouth with its tongue hanging out!
We're not super fans of the bao buns but this one was pretty good. The duck was not crispy at all, however, and was, in fact, a thick slab of tastelessness. Very disappointing. Duck is a pretty tasty meat, so I don't know what the problem was except that, perhaps, it wasn't really duck. The sauce was really sweet and not terrible. Hubs found it all too salty, but I thought the sweetness of the sauce counteracted the saltiness for a nice balance.
On to number three: Italy!
We were excited about Italy. We've skipped it in years' past because we'd tasted it all before and it tasted like Chef Boyardee. This year, all three offerings were new. We skipped the sausage ragout because Hubs doesn't like sausage. I'd have gone for it but I had so much left on the list, I didn't mind skipping it. So, what did we get?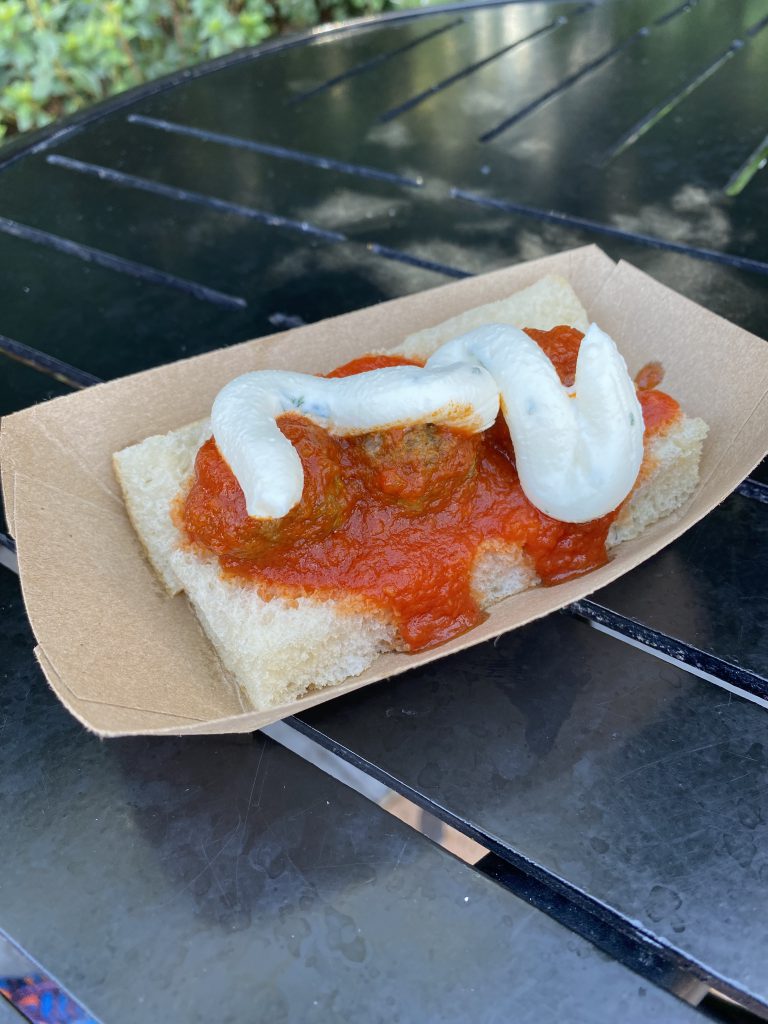 Focaccia ripiena: freshly baked focaccia, beef meatballs, tomato sauce and burrata cheese.
Okay, so it was a meatball sub.
I thought the sauce was a step above Chef Boyardee, but Hubs words were along the lines of: "Well, I guess it's good to know that Chef Boyardee really is authentic Italian food."
And for a bit of dessert…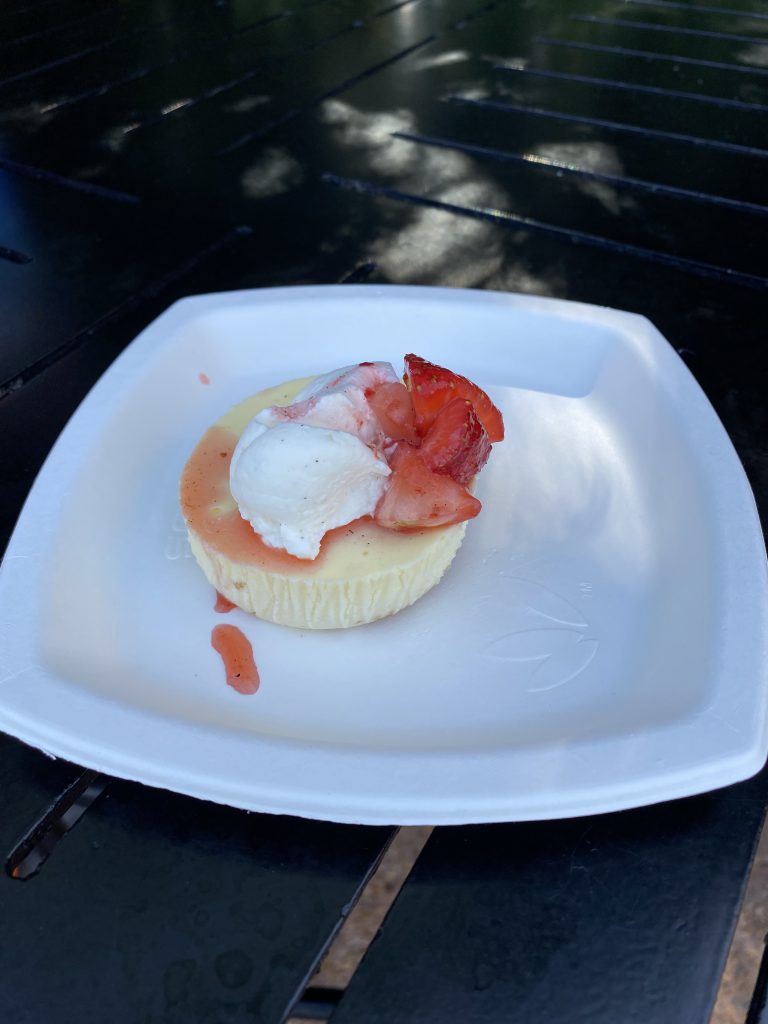 Lemon ricotta cheesecake with vanilla cream and strawberry compote. Yummy! This was fabulous.
Number four: Japan!
We chose one of their new offerings here: the beef Wagyu don (don means bowl). So, a rice bowl with American Wagyu beef (hint: that means it's not really Wagyu) over steamed (sticky) white rice. It was topped with what we think were pickled carrots which were super strong in flavor; a tough piece of pickled okra that tasted nothing like okra ought; a slice of tough boiled egg; and some bits of (maybe fake*) saffron. We decided this dish could be dubbed Japanese Shepherds Pie…in a bowl. A very tiny bowl.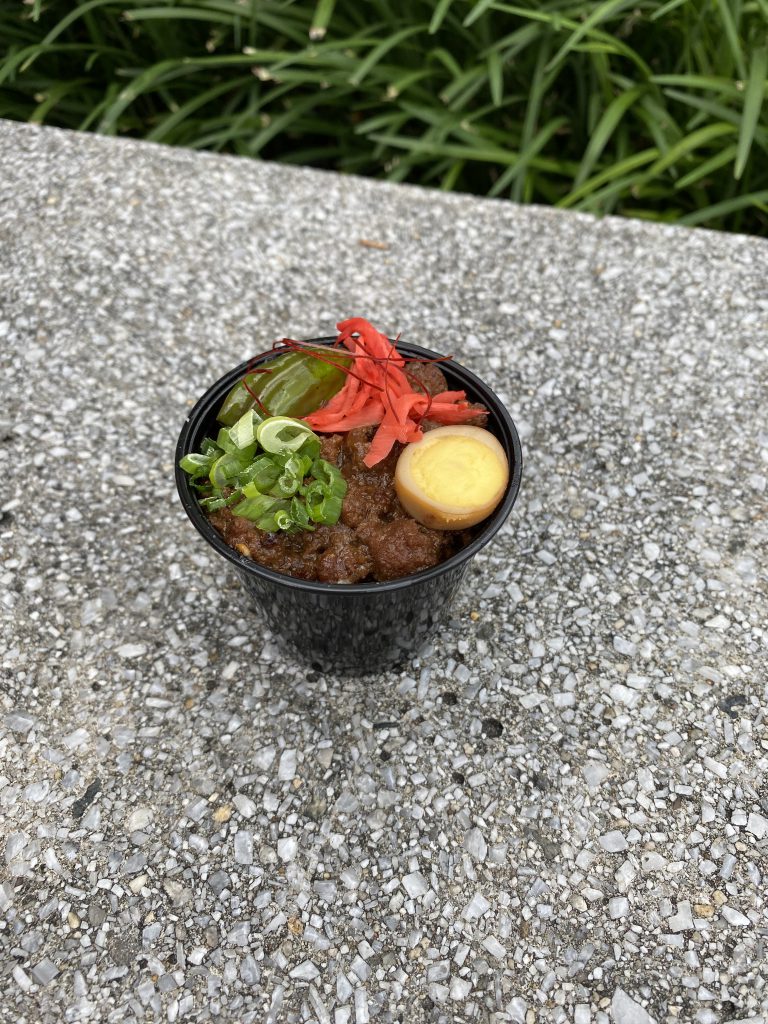 *I say fake saffron because…come on. Saffron is really expensive. I tasted a bit of it by itself because I wanted to know what saffron tastes like. I still don't know what saffron tastes like because it had no flavor.
Overall, though, a pretty tasty dish.
On to number five: Flavors of the Medina!
Wait, what?
Some of the offerings were at permanent locations in EPCOT, as opposed to the booths. This one was in the Tangierine Café in Morocco.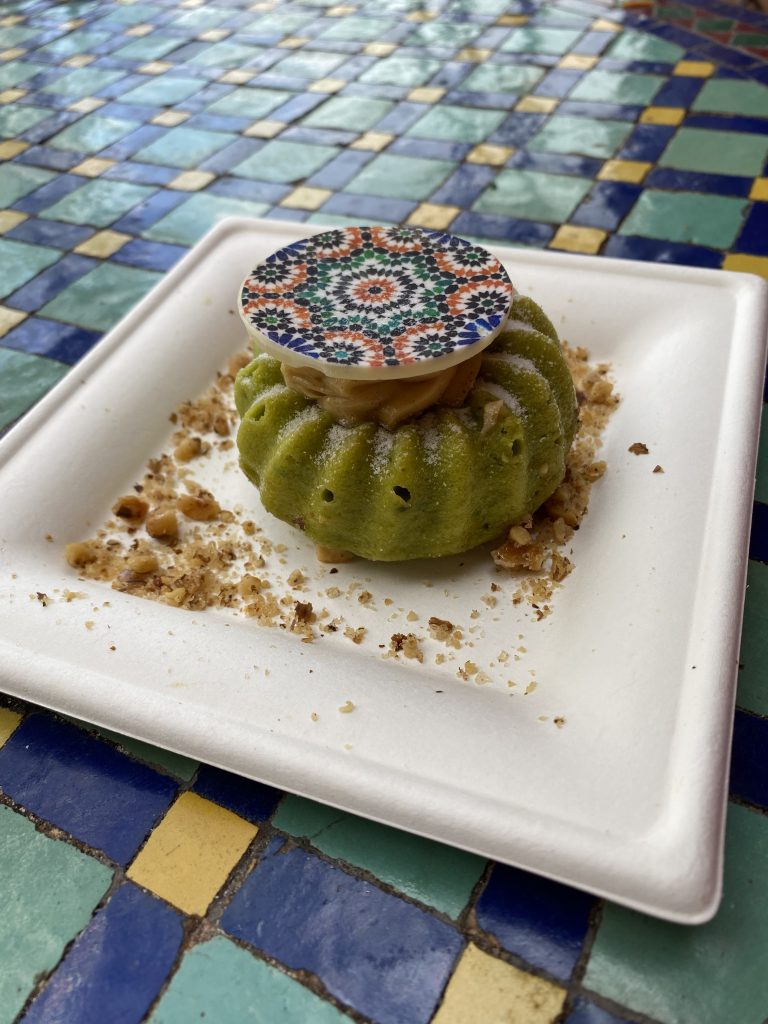 Here we had the pistachio cake with cinnamon pastry cream and candied walnuts. Heaven on a plate! The cinnamon overwhelmed the flavor of the pistachio cake, but if you got a bite without it, the pistachio came through wonderfully. There was a decorative piece of white chocolate on top. Very nice!
Next up: Ireland!
Our sixth stop was Ireland for the obligatory warm chocolate pudding cake with Irish Cream Liqueur custard. Hubs was going to let me eat this all by myself but I insisted he help. It's huge! Honestly, I didn't find it as chocolatey as it looks. I might consider skipping it next year.
Stop seven: Flavors from Fire!
Yeah, they have these booths that aren't linked to countries at all. It seemed wrong when they first started, but we're okay with it now. So here we got their two new offerings.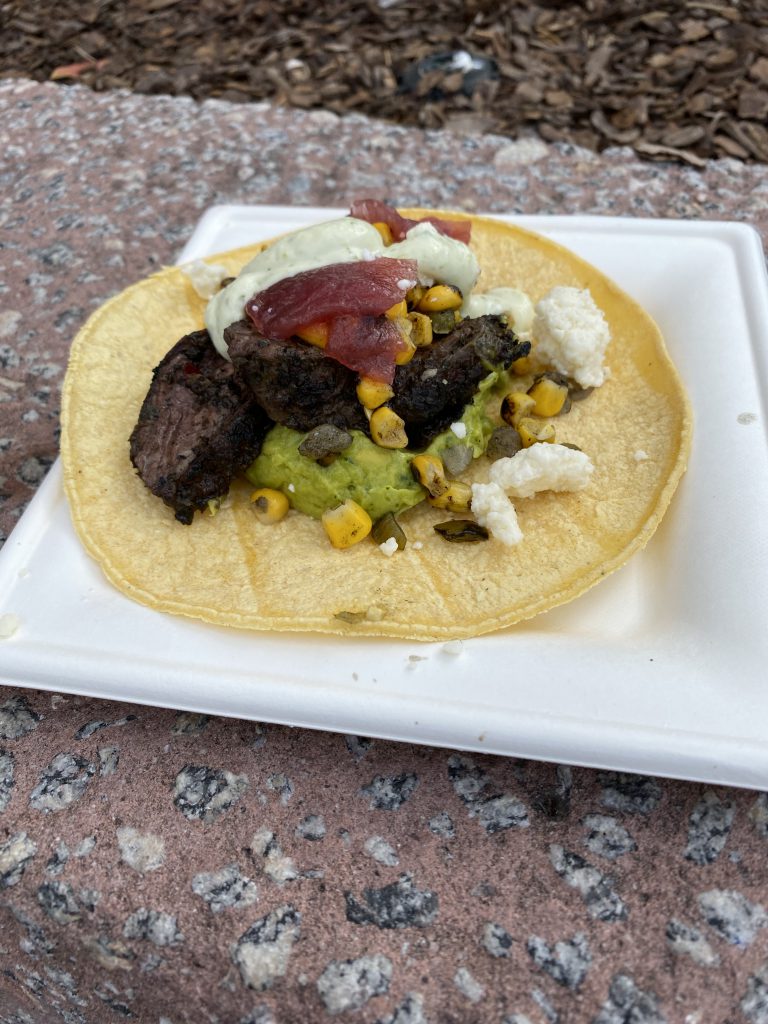 Chimichurri marinated skirt steak taco with crushed avocado, grilled corn salsa, pickled red onions (more like a wide slice), queso fresco and cilantro-lime cream. This was pretty good. Loved the avocado.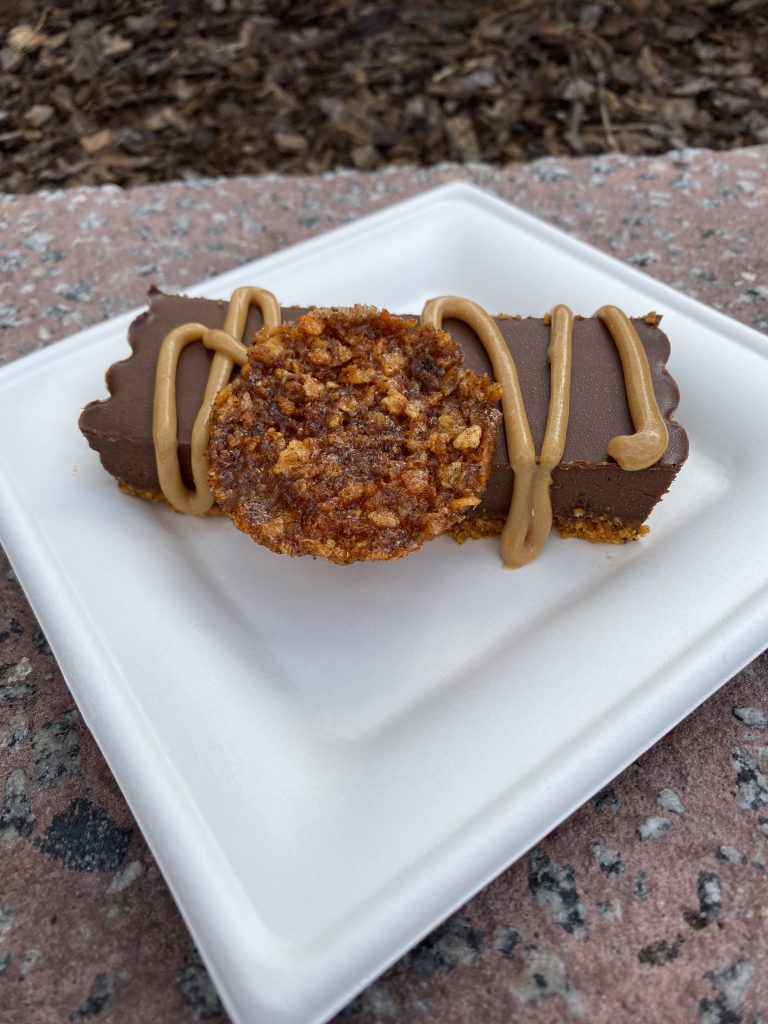 Spiced chocolate tart with BBQ potato chip crust, salted whiskey caramel, and smoked sea salt.
So, picture me, carrying this plate with a huge chunk of chocolate on it, beaming, salivating! I was in heaven. I was going to eat this whole thing. Hubs would be lucky to get one bite. Alas.
Nope. Just no.
My god when will people stop ruining chocolate? It was way too spicy. To the point of being disgusting. And that chip on top? Oh, my god, I tasted it and nearly spit it out. Bitter and gross.
Now, stop eight was technically at the Connections Café for a Remy Liege waffle. A cream cheese Liege waffle with cream cheese icing, graham cracker crumbs and a Remy chocolate garnish.
From The Belgian Kitchen:
The Belgian waffle, as we know it in the US, is actually an americanized [sic] version of the Brussels waffle, a batter based waffle.  Pearl sugar waffles, aka Liège waffles,  are quite different and are made with a yeast based brioche dough studded with special pearl nibs of sugar that caramelize on the waffle iron as it cooks. 
The Connections Café is basically a Starbucks. It was the longest line we waited in (the second longest was for Japan). And as we got closer to the counter, we realized two things.
One: Remy chocolate is not some kind of fancy European chocolate. It's a piece of white chocolate with a picture of Remy on it. Oh, that's right. We finally realized that Remy is the name of the rat in Ratatouille.
And two, the waffle wouldn't be served on a plate, but in a little plastic pouch. So we decided to take the waffle home and try it there. One less thing to fill us up, right? So, we'll get back to the waffle at the end.
While we were in line, we passed a refrigerated case and I grabbed a bottle of Diet Coke. When we purchased our Remy waffle and very expensive Diet Coke, I asked for a cup of ice. The cashier asked for my name, wrote it on the side of a cup, and passed it to someone. There we were, standing in a group of wired coffee fanatics, waiting through the shouts of "Carla! Iced, Ristretto, 10 shot, venti, with breve, 5 pump vanilla, 7 pump caramel, 4 Splenda, poured, not shaken!"* for my little: "Donna! Cup of ice!" That's right. They got my name wrong.
*I got that from the Internet.
Stop nine: Greece!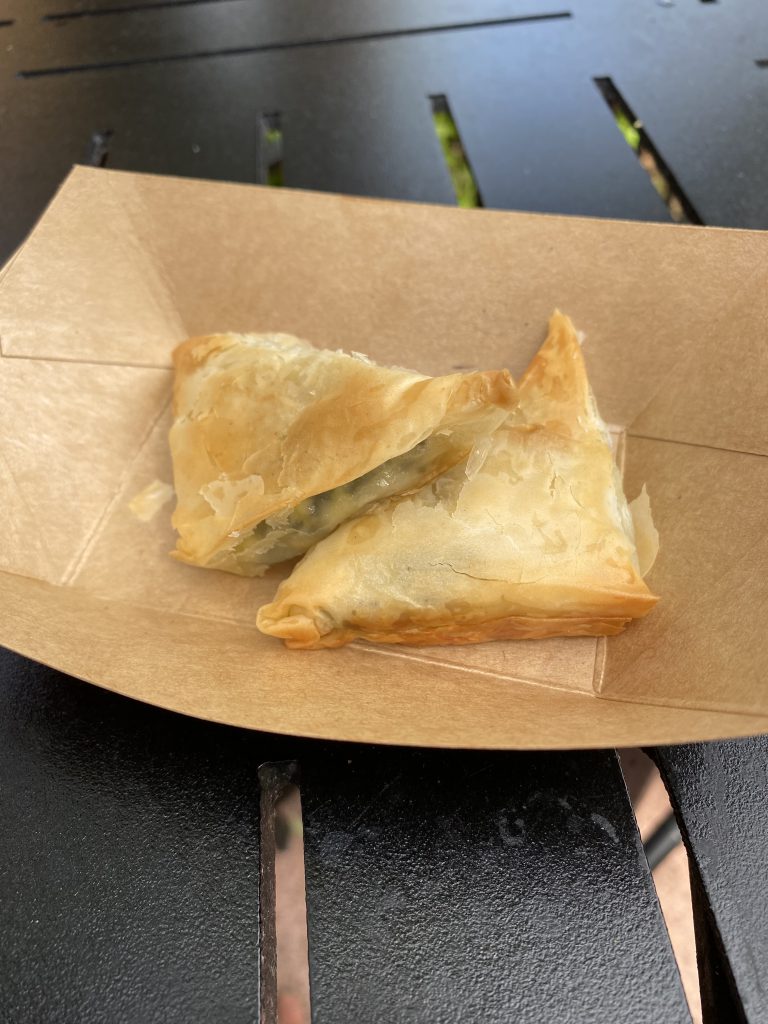 We got the spanakopita (basically a spinach/cheese pie) because I always think I'm going to love it. And it was cheesy and comforting. But it was also too greasy. I might try to make some myself sometime and see how it turns out.
Next stop: Flavors of America!
Everything was new this year at the America booth, except for the carrot cake. We chose the Chilaquiles: corn tortilla chips tossed in a salsa verde with ranchero chicken, queso fresco, cilantro-lime crema and a soft poached egg.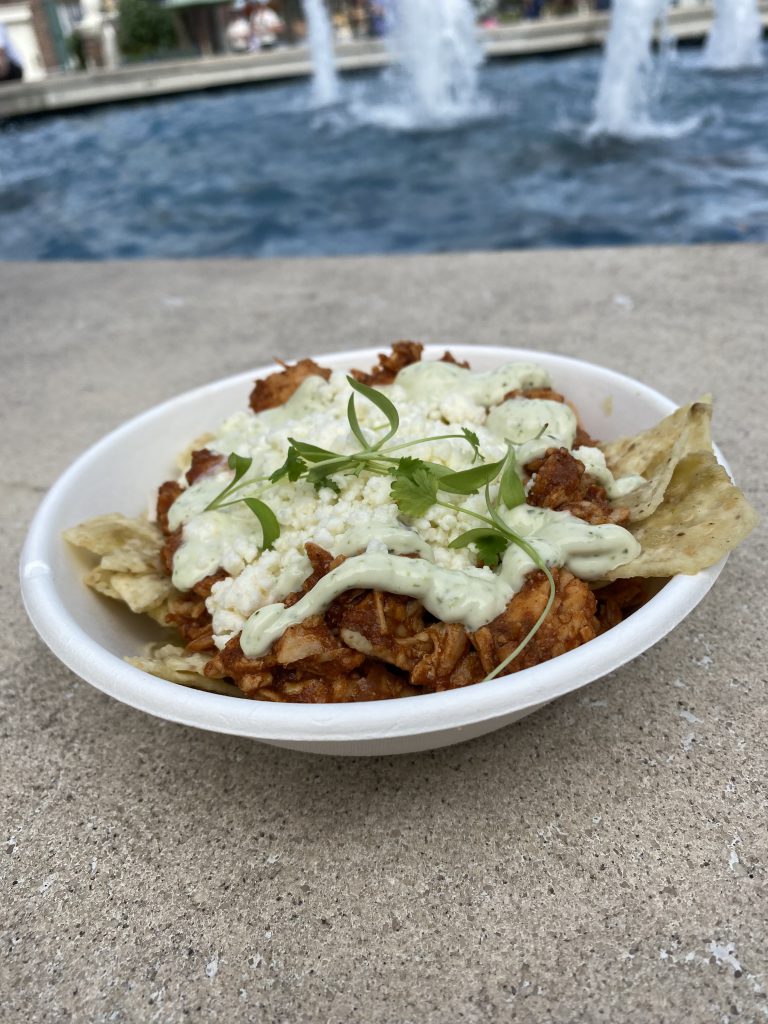 Well…we expected this to be like nachos, but the tortilla chips were very soggy and had to be eaten with a fork, which wasn't an easy thing to do. We found an egg shell in it! Chef Ramsay would be appalled. While this was very tasty, the soft poached egg was pretty close to raw. It was pretty gross so we avoided it.
Stop eleven: Germany!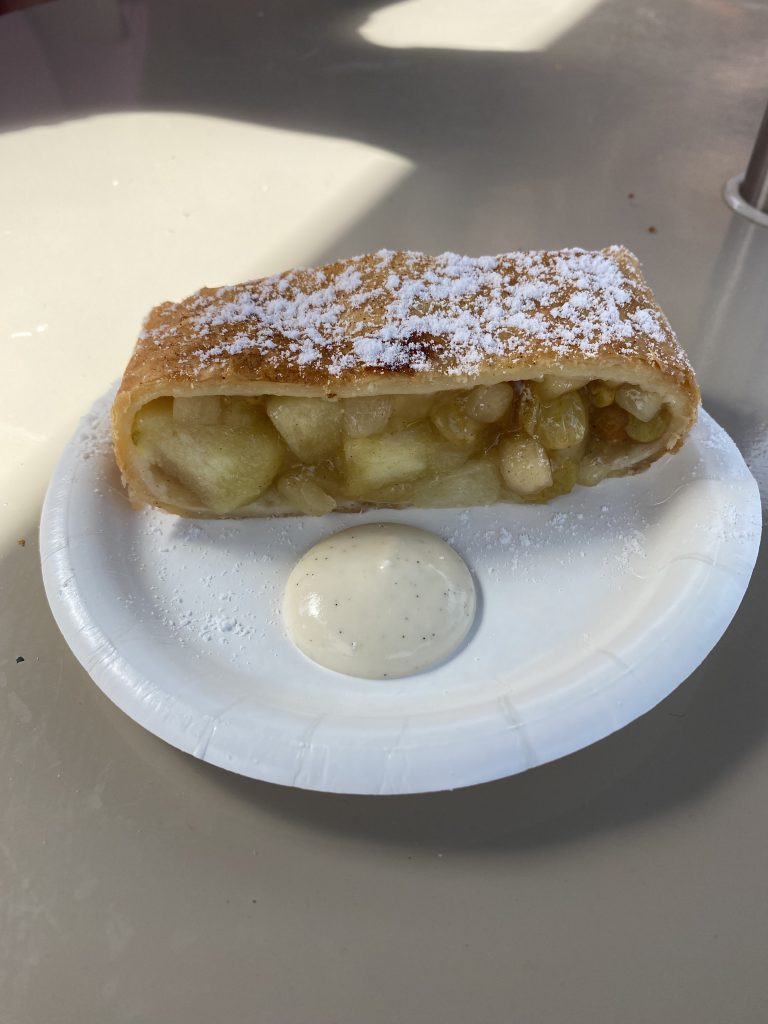 We decided to indulge in the usual apple strudel with vanilla sauce. It's always a pleasure. Mild in flavor, not super sweet like American apple pie. And it's got grapes in it. We think they're cute.
And that was it! We couldn't eat another thing, so we went home. And I found my Remy waffle pretty smashed up in my purse. After a few hours of digesting, I gave it a try.
Fresh out of the bag at EPCOT, you would have seen distinct lines of drizzled cream cheese icing across the top.
My reaction was to ask Hubs if it was possible for something to be too sugary sweet and yet, not very sweet at the same time. The cream cheesy parts were lovely, and the crust parts were sugary. The white chocolate was delicious. All in all, it was much too sweet to eat the whole thing.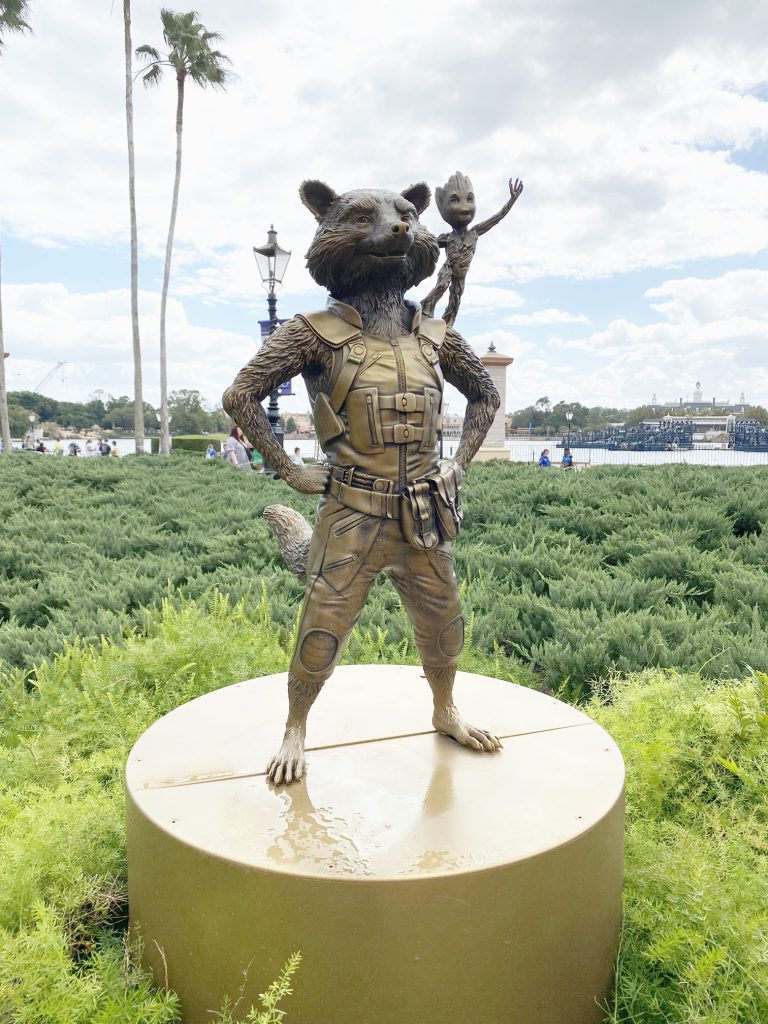 Many of the prices were a bit higher this year. Some seemed very high. The Wagyu beef don, for example, was $9.75. The Bao bun with duck slab was $8.25 and Italy's mini meatball sub was $9.00 with its cheesecake $8.00.
The other selections we tried were priced from $4.19 for the Remy waffle to $7.51 for the taco de costilla (rib) at Mexico.
Still, we had fun and enjoyed sampling some weird and wonderful foods. We're going to try to do the Sea World food festival next spring. I'll blog about it, if we do.
So…did you do the festival? If so, what did you like best?