I started a new class this morning with The Great Courses. I'd been trying to listen to a class on The Federalist Papers for a long time and, I'm sorry to say, it was just so boring! So I switched to a class on England, the Beatles, and the 1960s. The first lesson was a real winner.
I learned, for example, that George Harrison visited his sister in Benton, Illinois in 1963. At the time, the Beatles were all the rage in England, but pretty much unheard of in America. Certainly in Benton no one knew who George was.
But I also learned that before the Beatles ushered in the British "Invasion," the top song on the charts in America, for five weeks no less, was Sugar Shack, by Jimmy Gilmer & the Fireballs. So, after my lesson, I headed over to YouTube for a listen.
I was unimpressed. But the worst part of it was that Jimmy sang the line "There's this cute little girlie, she's a-workin' there; A-black leotards* and her feet are bare."
*The official lyrics claim he's singing it this way: "There's this cute little girlie, she's a-workin' there. A black leotard and her feet are bare." But in the song you can just make out a plural in "leotards" and when you hear the story of how this song was written, you know he's saying "a-black" in the same way he said "a-workin'."
Keith McCormack wrote the song with help from his aunt, Faye Voss, over coffee one morning. You can hear him talking about it in The Story of SUGAR SHACK – "We've given it a signature!" by Peter Beamish. He says, "I couldn't remember what you call those tight pants girls wore at the time, so I asked my Aunt Faye and she said 'leotards.'"
Before I get into it, did you know that the leotard is named after 19th-century French acrobat Jules Léotard?
Anyway, I listened to the entire video about the making of "Sugar Shack" and I'm sorry to say that not once was the error of "leotards" addressed. Leotards are bodysuits, mostly worn by dancers. I can assure you that the waitress in the Sugar Shack wasn't wearing leotards. She was wearing tights, or more likely 1960's style peddle pushers. Think Mary Tyler Moore in The Dick Van Dyke Show.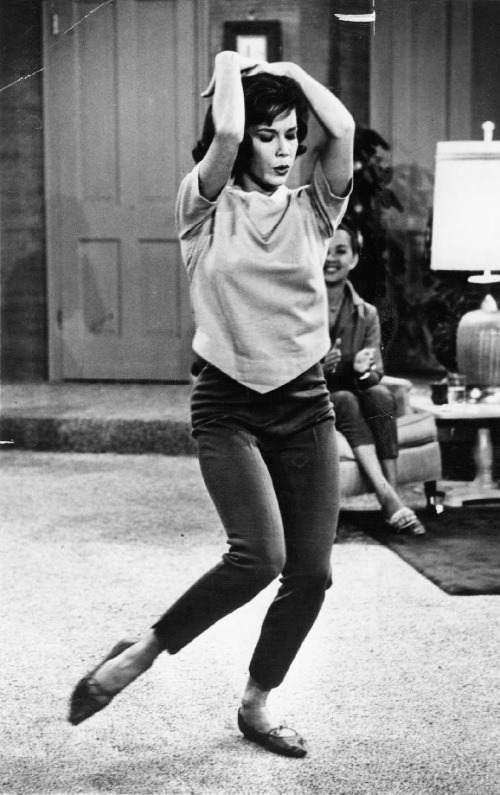 I'm baffled as to why no one noticed that McCormack used the wrong word. Even Wikipedia doesn't seem to realize it's wrong.
What the hell is wrong with the world?
Anyway, another top song in 1963 was Sukiyaki by Kyu Sakamoto. A much better song than "Sugar Shack." And luckily for me, it's in Japanese, so I have no idea if it has any egregious errors in it.
Sakamoto was only twenty when he sang "Ue o Muite Arukō." Naturally, the name was changed to "Sukiyaki" because English-speaking people are stupid. Why didn't they change it to a translation? Like, "I Look Up As I Walk," which is what it translates into? Why Sukiyaki? Do you know what sukiyaki is? It's a meat dish and has absolutely nothing to do with the song.
Anyway, what a lovely morning of music and history.