Did you catch the Moby-Dick reference in the video?
Earthquake cake is also known as upside-down German chocolate cake because to make it, you put coconut and chopped pecans on the bottom of the pan and then pour German chocolate cake batter on top. But, if you ask me, that produces nothing at all like an upside-down German chocolate cake! The coconut and pecans of German chocolate cake are part of a gooey, sweet frosting, not toasted, which is what you get with earthquake cake.
It's called earthquake cake because, if it's done well, you end up with craters that make it look like your cake has suffered from an apocalyptic earthquake. It's pretty cool.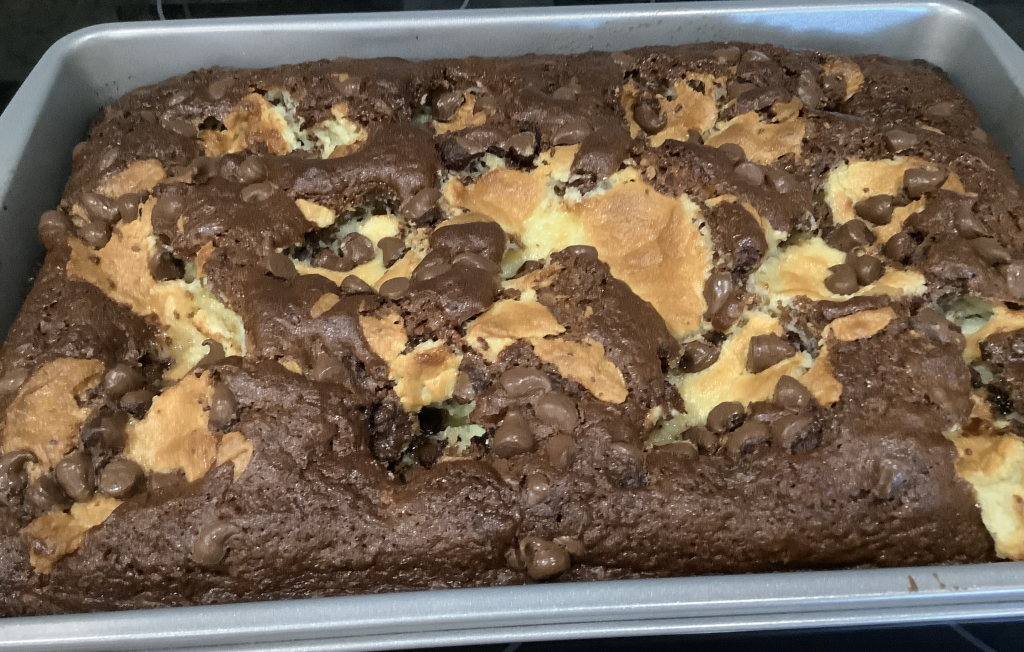 I chose the following recipe that I watched a lady make on YouTube:
Original Recipe
1 1/2 cups flaked coconut
1- 1 1/2 cups chopped pecans
1 German chocolate cake mix, prepared
1 8oz. pkg cream cheese at room temperature
1 stick (1/2 c) of butter at room temperature
2 cups powdered sugar
The results of this recipe were disappointing for me. The cake part itself was dry and bland. Now, I did have to use Betty Crocker instead of Duncan Hines. I prefer Duncan Hines overall. I've found that their flavors are superior and their cakes and brownies are always more moist. So, that may have been the problem with the cake part.
Still, even though I managed to get some Duncan Hines German chocolate cake mix, I decided to make changes to the recipe anyway, to be sure to produce a really moist, chocolatey cake,
When you put the coconut on the bottom of the pan, it comes out toasted, even though you pour cake batter over it. I like toasted coconut as much as the next guy, but I didn't think it went well with the cream cheese mixture.
And speaking of the cream cheese mixture, it was more cheesy than sweet. Maybe that was the problem. Maybe if I just changed the sweetness level of that, it would have paired better with toasted coconut.
But I'm not the kind of person to change one thing at a time in an experiment. I'd make a terrible scientist.
So, I changed the cream cheese mix, too. The original was really dense and the lady who did the video I watched dragged a knife through the dollops you're supposed to put on the cake batter once it's in the pan. But it was so thick, that didn't work for me.
To make it lighter, I used 1/3 less fat cream cheese, and margarine instead of butter. I also prefer the taste of margarine, so there's that. And to make it a tad sweeter, I added another 1/2 cup of powdered sugar. Now, the lady who did the video making the original recipe did say that some recipes use more powdered sugar and she was right. I saw one that called for 4 cups! That was a sugary bridge too far for me.
So, here's my new recipe:
Scrumptious Earthquake Cake
1 box German chocolate cake mix, prepared*
1 c chopped pecans
1 1/2 c flaked coconut
1 12 oz. bag semi-sweet chocolate chips, divided
1 8 oz. pkg. Neufchâtel cheese or 1/3 less fat cream cheese, at room temperature
1 stick (1/2 c) margarine, at room temperature
2 1/2 c powdered sugar
*You will need 3 eggs, oil, and water for the cake mix
Preheat oven to 350°
Spray 13×9-inch pan with oil
Prepare the German chocolate cake mix as directed on the box. Stir the pecans and coconut into the batter. Add most of the chocolate chips. (I didn't measure, but I'd suggest setting about 1/2 c aside.) Stir to mix, and then pour into the pan.
Mix the cream cheese, butter, and powdered sugar together with a spoon or mixer and dollop globs of it onto the cake batter. Top the cake with the remaining chocolate chips.
Bake at 350° for one hour! (Yes, it'll take an hour)
Enjoy hot or cooled.
This cake freezes well. So far, I've enjoyed a chunk of it after a two-week freeze and it was just as moist and delicious as ever. Wrap each chunk in wax paper or plastic wrap, then wrap it in aluminum foil to freeze.
Let me know how it turned out for you!